HOLIDAY LIMITED EDITIONS ARE HERE
RE-MINERALIZING TOOTHPASTE: DIP. BRUSH. SMILE.
View all
Good for the Body and Planet.
THE ORIGINAL ZERO WASTE TOOTHPASTE
Yes, Nelson Naturals toothpaste and deodorant comes in jars. It's not the plastic tube you grew up with, and that's a good thing. Single-use plastics are filling and contaminating our landfills and oceans, and we all need to make changes.
So far, our customers have helped us divert millions of tubes from landfills and oceans!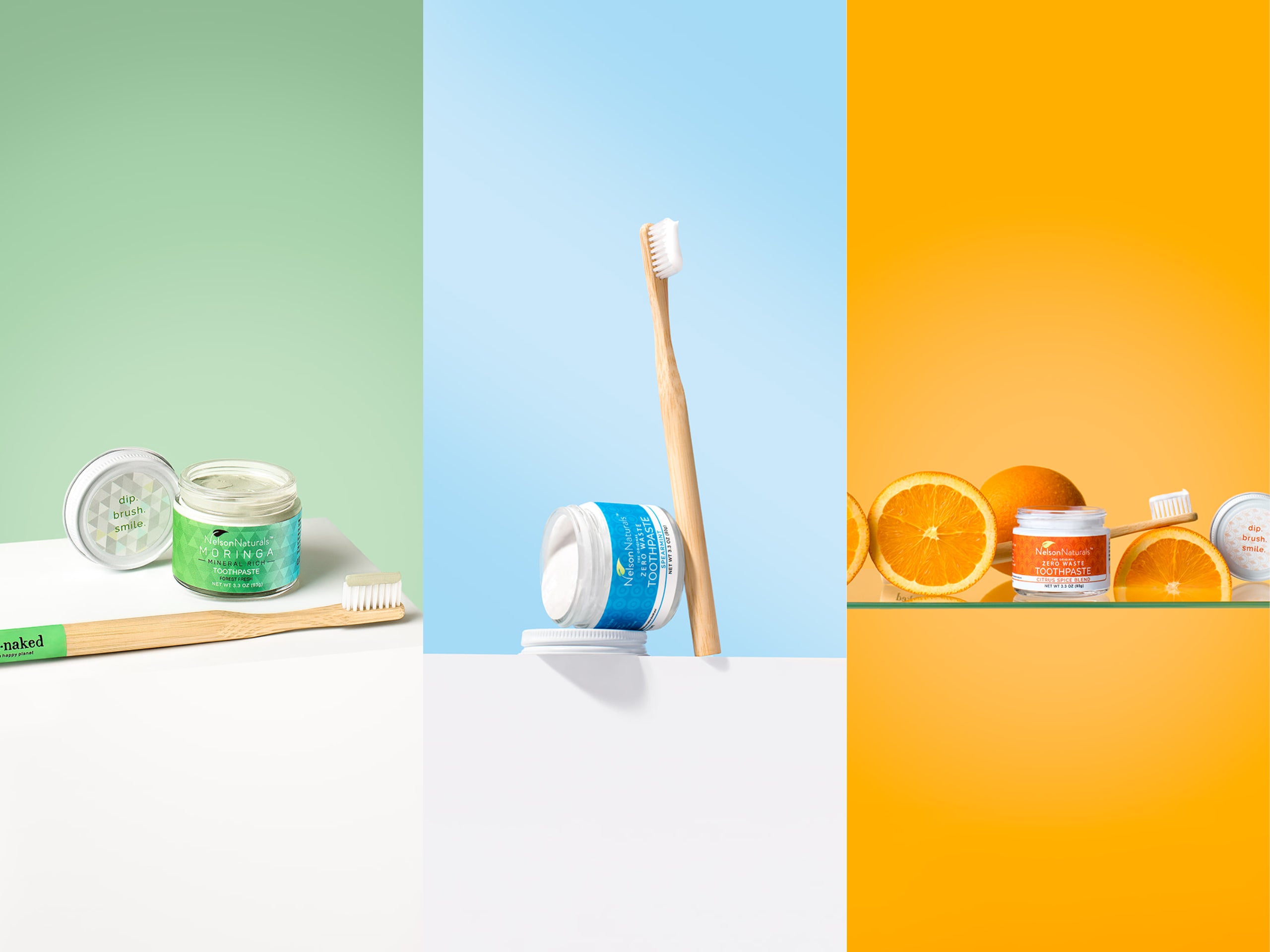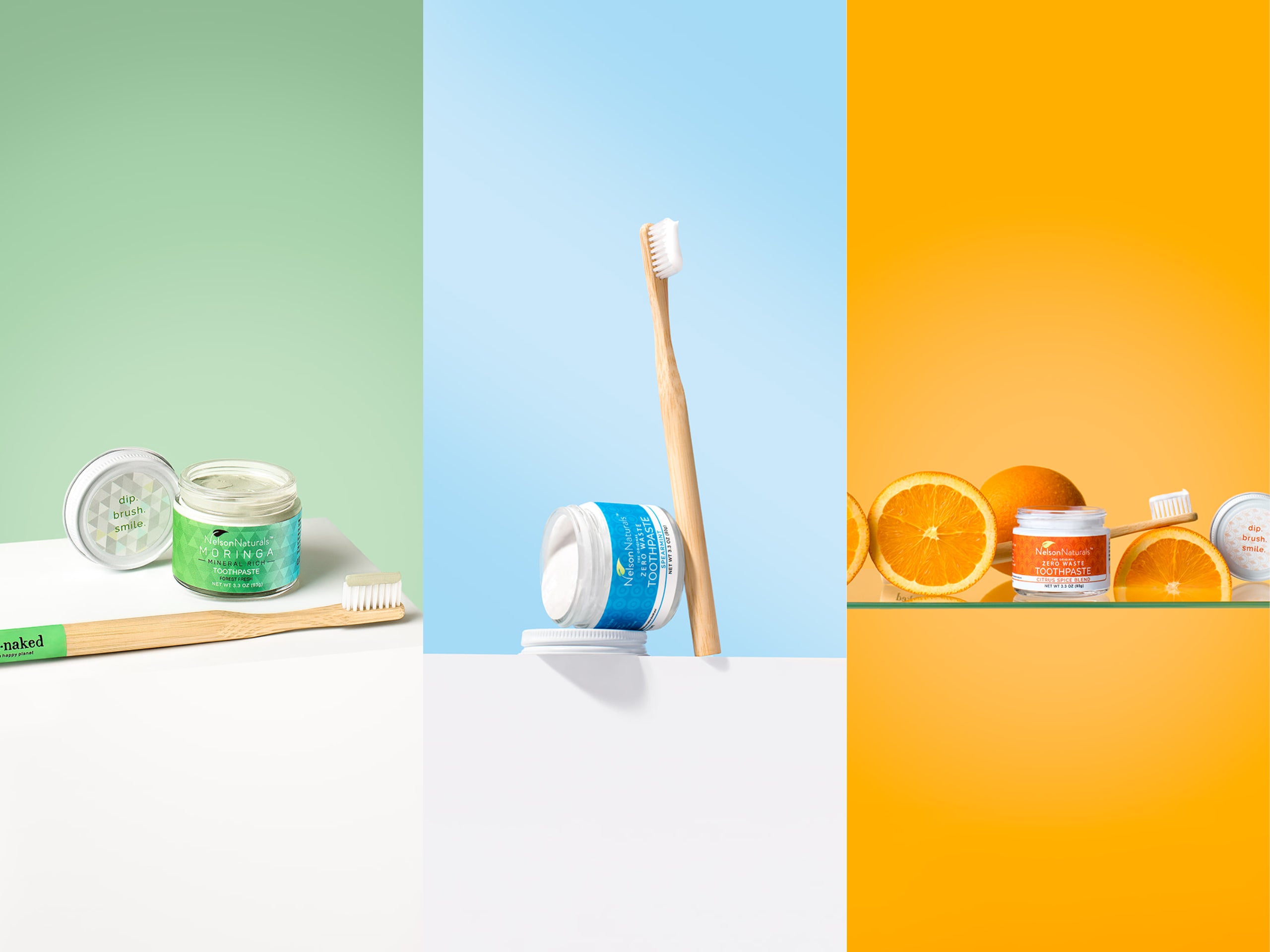 MORINGA
With the mineral rich properties of Moringa, the unique properties of Iodine combined with the detoxifying properties of Bentonite, we believe this will be one of the best brushes you've ever had. View Moringa
Spearmint
The classic toothpaste flavour for the ultimate clean, and fresh breath. Slightly less sweet than our other formulas. Mineral Rich. View Spearmint
Citrus Spice
This is our take on a Thieves oil blend, this flavour has a hint of mint, cinnamon, citrus, rosemary and clove, and is sure to make your brushing experience exceptional. Our best selling classic toothpaste formula. Mineral Rich! View Citrus Spice
Oral Care Reinvented
A mess-free, convenient, portable and perfectly portioned toothpaste tablets and mouthwash tablets. Ideal for travel or to brush on the go!
CRUSH & BRUSH
Step 1: Buy a jar once
Choose from 5 of our Crush & Brush toothpaste tablet flavours and our Crush & Swish mouthwash tablets!
TOOTHPASTE TABLETS
Step 2: Buy refill packs!
Refill your jar with any flavour for an endless life cycle!
SHOP NOW
What makes Nelson Naturals so good?
All of our products are vegan and do not contain any animal by product. We never test on animals and all of our products are 100% cruelty free.
We never use any harmful or controversial ingredients in our formula's. All of our toothpastes are FREE FROM fluoride, SLS and artificial sweeteners. All of our deodorants are FREE FROM parabens, phthalates, aluminum, and synthetic fragrance.
All of our products are made right here in Nelson, BC Canada!
We have end to end waste reduction measures implemented throughout our manufacturing process and all of our shipping and packing materials are paper-based, 100% plastic-free, and repurposed whenever possible. 
Nelson Naturals is a women owned company consisting of a mother-daughter duo running the company!
Jar getting low? We have hundreds of locations that carry our natural toothpastes and deodorants in bulk. Find one near you to get a refill today. WHERE TO REFILL