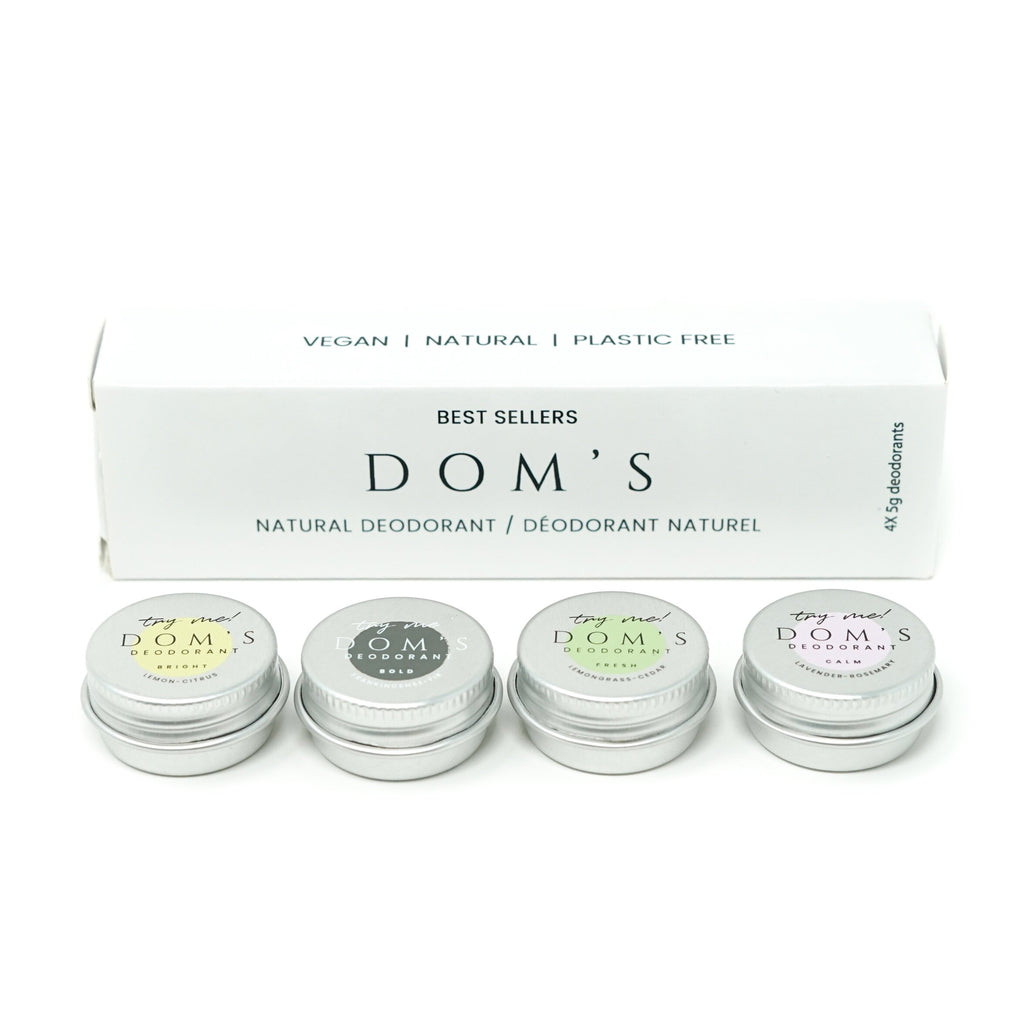 $12.00
Dom's Deodorant - Find Your Scent
Which Dom's scent is right for you? Try 4 of our best selling all natural+ organic, toxin free, vegan deodorants! Find the best scent for your skin type through our sample packs.
Perfect for keeping in your purse, gym bag, carry on bag, or gifting.
Yes, It WORKS!
Vegan + Cruelty Free

100% Natural 85% Organic

Strength: All samples are extra-strength. All day odour control.

Packaging: 100% recyclable tin.

Scents:

CALM (Lavender/Rosemary): Calming fresh cut lavender with a hint of rosemary.

FRESH ( Lemongrass/Cedar): A blend of Lemongrass, Cedar, and tea tree to keep you smelling fresh all day.

BRIGHT (Lemon Citrus): Stay bright with our citrus scent. Notes of lemon, grapefruit, and sweet oranges.

BOLD (Frankincense/Fir): A woodsy blend of frankincense and fir that will remind you of the great outdoors

Size 4X 5g

 

DOM'S is formulated for irritation-free freshness, even through the toughest workouts and work great for people sensitive to typical baking soda deodorants.
To use: scoop a pea-sized amount with your fingers and gently apply to the entire armpit where it will melt and absorb on contact with your warm skin.
INGREDIENTS
FRESH (Lemongrass/Cedar): Love & Gratitude*, helianthus annuus (sunflower) seed oil*, zea mays (corn) starch*, sodium bicarbonate (aluminum-free baking soda), cocos nucifera (coconut) oil*, theobroma cacao (cocoa) seed butter*, copernicia cerifera (carnauba) wax*, magnesium hydroxide (dietary magnesium), cetearyl olivate (and) sorbitan olivate, cymbopogon flexuosus (lemongrass) oil*, cedrus atlantica bark oil (cedar atlas)*, melaleuca alternifolia (teatree) leaf oil*, tocopherol (vitamin e), barassica glycerides, * CERTIFIED ORGANIC
CALM (Lavender/Rosemary): | Love & Gratitude*, helianthus annuus (sunflower) seed oil*, zea mays (corn) starch*, sodium bicarbonate (aluminum free baking soda), cocos nucifera (coconut) oil*, theobroma cacao (cocoa) seed butter*, copernicia cerifera (carnauba) wax*, magnesium hydroxide (dietary magnesium), cetearyl olivate (and) sorbitan olivate, rosmarinus officinalis (rosemary) leaf oil*, lavandula angustifolia (lavender) oil*, tocopherol (vitamin e), brassica glycerides, * CERTIFIED ORGANIC
BRIGHT (Lemon Citrus): Love & Gratitude*, helianthus annuus (sunflower) seed oil*, zea mays (corn) starch*, sodium bicarbonate (aluminum free baking soda), cocos nucifera (coconut) oil*, theobroma cacao (cocoa) seed butter*, copernicia cerifera (carnauba) wax*, magnesium hydroxide (dietary magnesium), cetearyl olivate (and) sorbitan olivate, citrus limonum (lemon) peel oil*, citrus aurantium dulcis (orange) peel oil*, citrus paradisi (grapefruit) peel oil*, tocopherol (vitamin e), barassica glycerides, *CERTIFIED ORGANIC
BOLD (Frankincense/Fir): Love & Gratitude*, helianthus annuus (sunflower) seed oil*, zea mays (corn) starch*, sodium bicarbonate (aluminum free baking soda), cocos nucifera (coconut) oil*, theobroma cacao (cocoa) seed butter*, copernicia cerifera (carnauba) wax*, magnesium hydroxide (dietary magnesium), cetearyl olivate (and) sorbitan olivate, boswellia carterii (frankincense) oil*, abies balsamea (fir) oil*, picea mariana (black spruce) oil*, juniperus communis (juniper) fruit oil*, tocopherol (vitamin e), barassica glycerides, *CERTIFIED ORGANIC