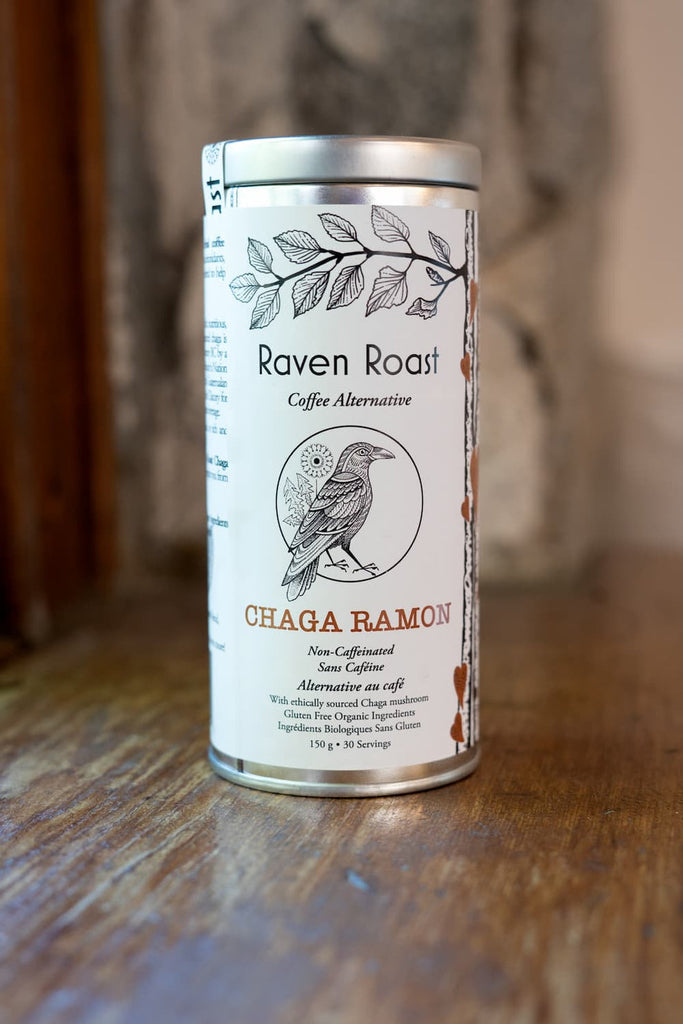 $25.49
Raven Roast Chaga Ramon (non-caffeinated) 150g
You want vitamins, antioxidants, trace minerals AND a delicious blend to help starve off those coffee cravings?
We got you.
Raven Roast Chaga Ramon is rich, nutritious, and satisfying. Our ethically sourced chaga is wild harvested in Chilcotin Country BC by a group working directly with Tsilhqot'n Nation Elders. Paired with nutrient rich Guatemalan Ramon Nut, and fragrant French Chicory for gut health, it is the perfect anytime beverage.
Delicious and invigorating plain, or rich and luxurious with cream and sugar!
Naturally caffeine free Raven Roast Chaga Ramon will harmonize and energize you from the inside out.
*We strive to make sure all of our organic ingredients are ethically and sustainably sourced*
Ingredients: Organic Ramon Nut, Organic Chicory Root, Organic Chaga Mushroom
Comes in a reusable, refillable tin that looks great on a shelf and helps promote low waste. 
Raven Roast is an enriching delicious coffee alternative that uses organic roasted herbs and cocoa to naturally promote energy, stamina, and wellness. It is formulated by an herbalist to mimic the flavour of coffee as well as provide nutrient to help the body restore itself. Raven Roast is available in caffeinated and non-caffeinated formulas. It is a satisfying, lovely beverage to enjoy morning, noon, and night.
*Raven Roast is a company based in Slocan Valley, British Columbia that hand-crafts herbal coffee alternatives.