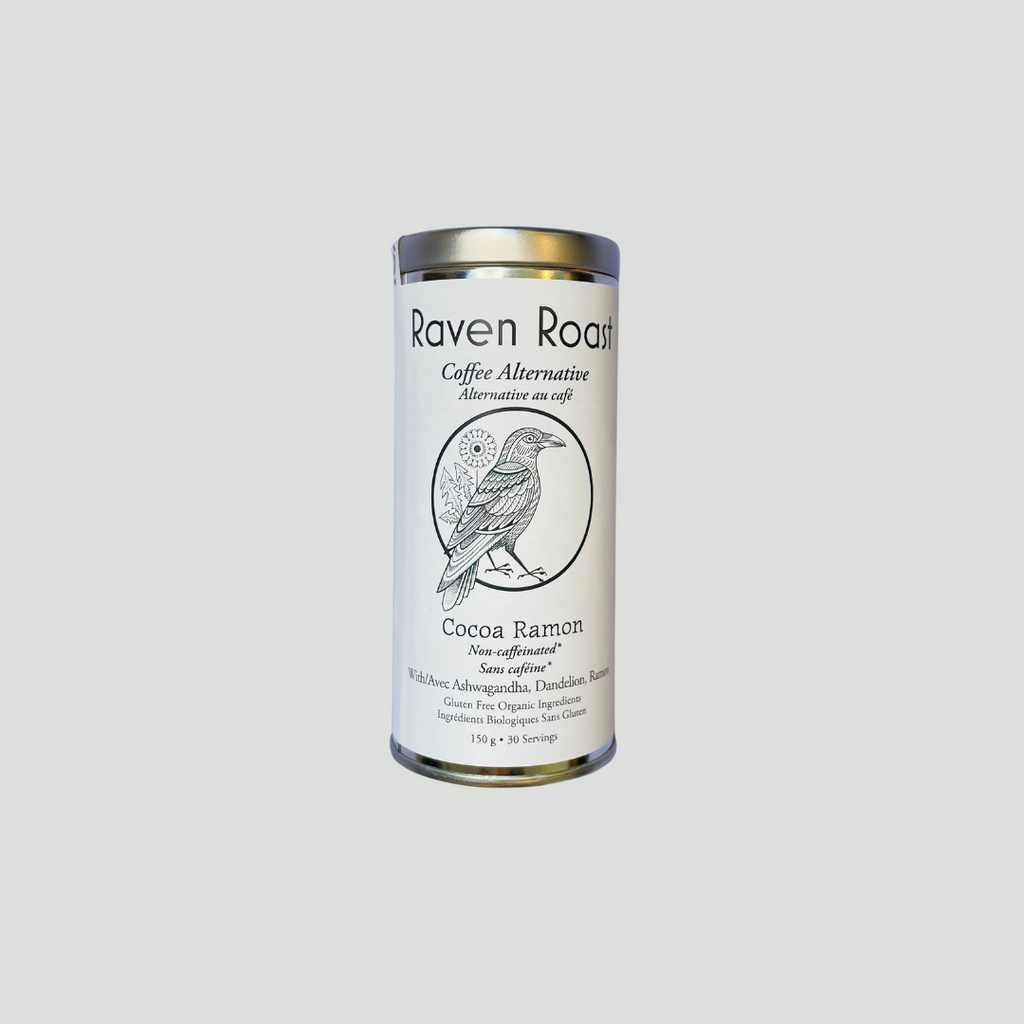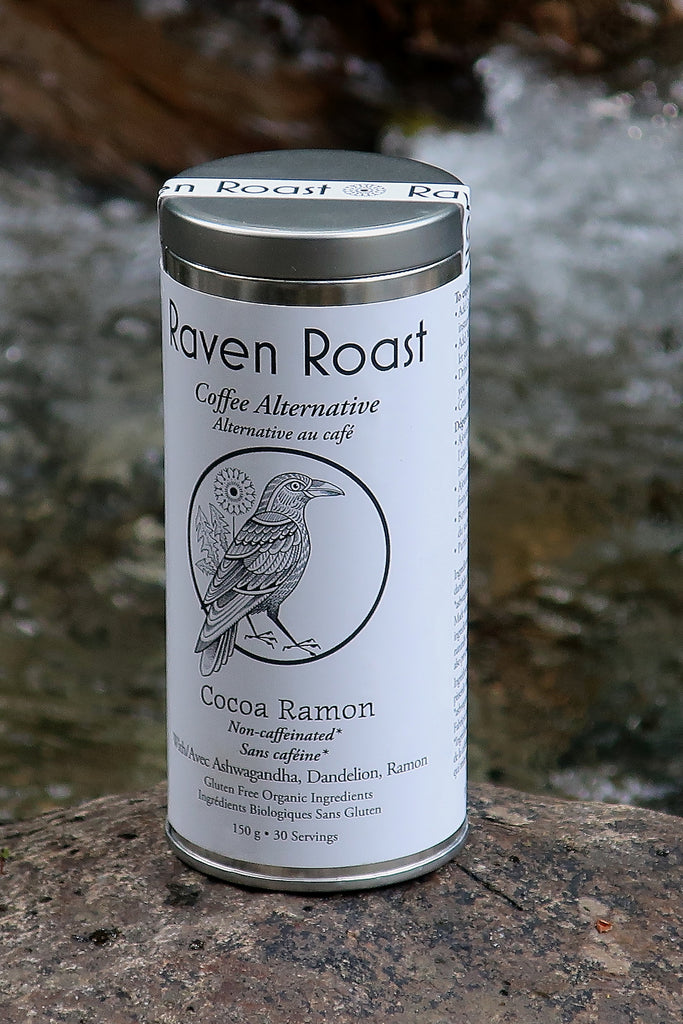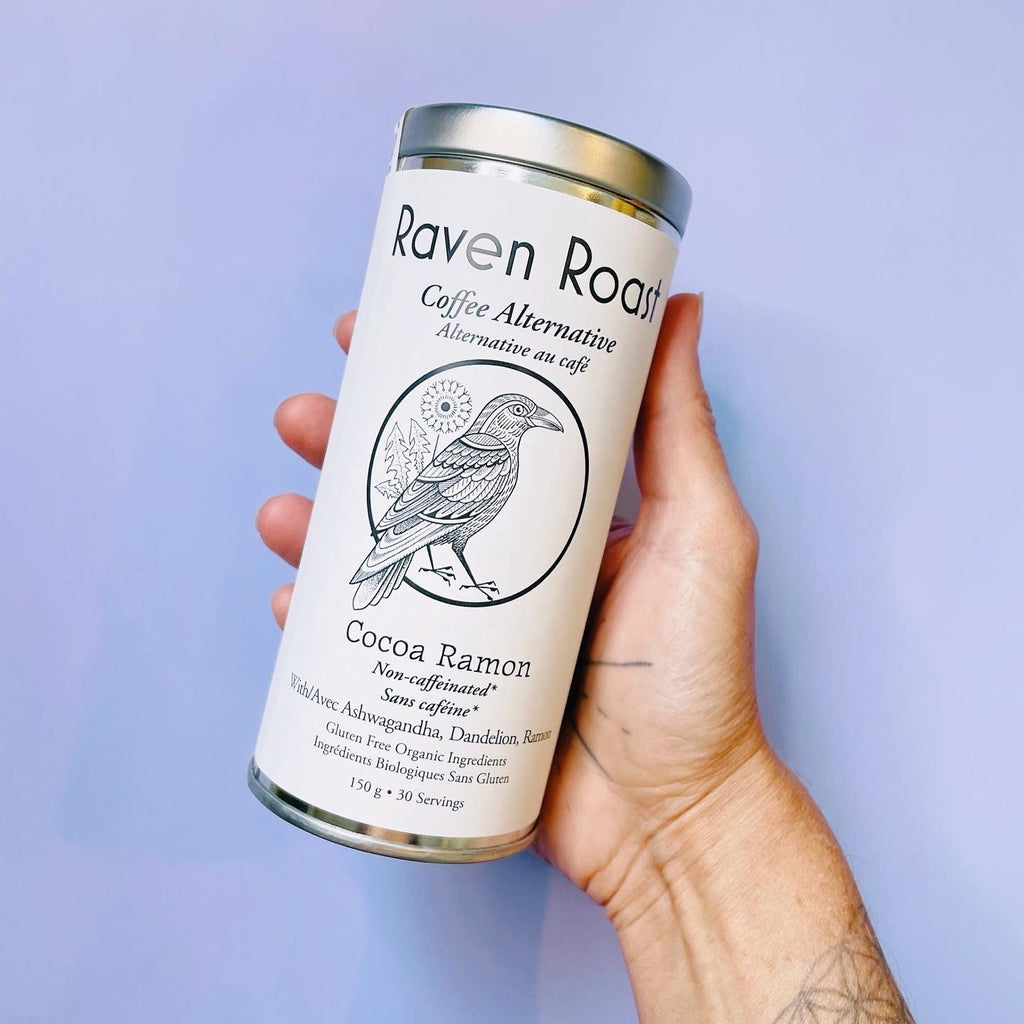 $22.99
Raven Roast Cocoa Ramon (non-caffeinated) 150g
Say good morning (or afternoon!) to Cocoa Ramon, our very special non-caffeinated coffee-alternative formula. This powdered mix of superfoods and herbs was developed by an herbalist to mimic the rich full taste of coffee. 
Naturally-energizing without caffeine, Raven Roast Cocoa Ramon will keep you going through the day without compromising a restful night's sleep. Because it contains Organic Ashwagandha, it can also help your body recover from stress. 
Prepare Raven Roast Cocoa Ramon as an instant beverage (great for camping!), or make it in a French Press for a more refined brew. It's also an excellent addition to your smoothie or shake. Made with organic, gluten free, sugar-free and low-carb ingredients, it's a non-caffeinated coffee alternative your body will love.
Ingredients:
Organic Roasted Ramon

- a superfood high in trace minerals with a rich chocolatey coffee flavour.

Organic Fair Trade Cocoa

- high in antioxidants, trace minerals, and theobromine with a deep rich flavour.

Organic Roasted Chicory

- a natural pre-biotic inulin used as a traditional coffee substitute.

Organic Roasted Dandelion

– a powerful detoxifier that promotes healthy digestion and contains prebiotic inulin. Historically used as a coffee substitute in Europe.

Organic Ashwagandha

- a trending adaptogenic herb used to boost energy and restore the body from stimulants and stress.

Organic Licorice root

- Just a touch! Very small amounts of licorice root are used in Traditional Chinese medicine to harmonize herbal formulas.
Comes in a reusable, refillable tin that looks great on a shelf and helps promote low waste. 
Raven Roast is an enriching delicious coffee alternative that uses organic roasted herbs and cocoa to naturally promote energy, stamina, and wellness. It is formulated by an herbalist to mimic the flavour of coffee as well as provide nutrient to help the body restore itself. Raven Roast is available in caffeinated and non-caffeinated formulas. It is a satisfying, lovely beverage to enjoy morning, noon, and night.
*Raven Roast is a company based in Slocan Valley, British Columbia that hand-crafts herbal coffee alternatives.